Current World Record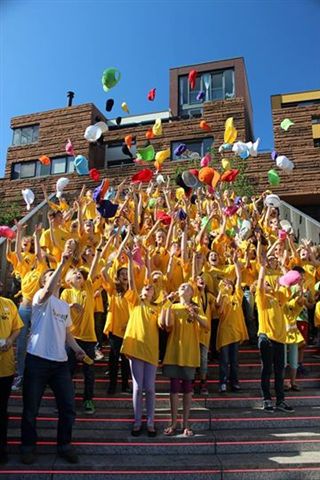 One hundred gifted elementary school students from the "Talentenlab" in Almere, The Netherlands, broke the world record of Tantrix Spaghetti on the weekend of 17th May 2014. Exactly 50,000 tiles were placed in 12 hours (also exactly) in vacant shop premises in the center of Almere, beating the previous record which had stood for six years.

The attempt was on behalf of the "Annemieke Timmerman Foundation", a foundation committed to helping young people with physical and mental disabilities. The 10.000 Ä raised goes towards funding a new interactive playground for their elementary school Olivijn.

After the event, the 50,000 tiles were cleaned and sorted into their rightful boxes in less than three hours - probably a record in itself!

The children that made it happen:

Daan Bootsman, Jasper de Vries, Alec Kleiman, Zirk Seljee, Bart den Boef, David Oosterom, Jan Zeinstra, Dave Rook, Lars Beugelink, Mike Reiziger, Bram Vlaar, Pepijn de Jong, Teun Los, Jonas Beije, Tim van Inge, Lukasz Spychaj, Niek Bremer, Andrew Messih, Maurits Buis, Carlos Viergever, Koen Vlaar, Olaf de Vos, Thomas van den Dungen, Emmie Tijhof, Rafael Kats, Melanie Messih, Camiel Ammar El Ghoul, Demko Vorenhout, Noah Waltje, Elise Zeinstra, Hela Azib, Fleur van Leeuwen, Maartje Bezemer, Lena Radt, Lute de Vos, ZoŽ Haire, Myrthe Koopman, Denitcha Misiedjan, Sem van Geene, Finn Curtin, Mychael Koelfat, Daniel Meijer, Keije Wieringa, Ruby Geessink, Sanna Coonen, Yentl de Jong, Tess Koekoek, Eva Endeman, Sindy de Jong, Caroline Messih, Erin de Vos, Amber van Damme, Lysanne Waltje, Bauke Nieuwenhuis, Julian Persaud, Mischa Radt, Giovanna Westerhoven, Iris Venhuis, Arlette Bruinsma, Jona Bedaux, Mees Wanschers, Minoushka van Leeuwen, Sem van Dijk, Kyllian van Leeuwen, Sadie Delintzis, Quinten Poppinga, Sem van Dijk, Joost Friderichs, Milo Camardese, Rozhano Hosseini, Nozhan Hosseini, Analy Meijer, Macha Meijer, Abel Meijer, Merel Langeveld, Melody Rampersad, Sytze Matthijse, Elianne Lekkerkerker, Sjoerd van der Graaf, Daan Herbert, Yasmin Kaldenbach, Noortje Kruijer, Ruben van der Heijden, Elise Wardenaar, Yvonne Verschoor, Lisan ten Hove, Sebastiaan Rietveld, Menno Wijkhuizen, Hylke Vogelaar, Thom Uittenbosch, Thomas Knoppers, Quinten Teiwes, Sebastian Burdorf, Nio Kleiman, Elke Seljee, Pascal Sprenger, Jonah Dokman, Stef Windt - congratulations!

More details and video clips of the event can be found on the media page.