The Super 5 Puzzles

The "Super 5" are a collection of traditional Tantrix puzzles designed as a progression from the introductory puzzles. Their level of difficulty ranges from Junior to Genius. The 56 tiles of a complete set of Tantrix are used just once for any one the Super 5 puzzles, so a set can be split up as follows:

Junior Puzzle:

This 10-tile puzzle is identical in concept to the Original, but quite a bit harder. Whereas the Original has solutions for all 3 colours, only one colour can be solved for the Junior and we are not giving away which! Additionally, four different colours are represented on the tiles, which in itself increases its difficulty.

Numbered tiles: 3, 5, 8, 12, 14, 43, 46, 50, 52, 54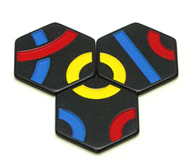 Student Puzzle:

The Student puzzle follows the same rules as the Original and Junior. Again only one colour has a solution and the tiles have 4 different colours. However, you will find the Student harder to solve then the previous two!

Numbered tiles: 19, 21, 24, 25, 29, 31, 32, 40, 41, 42

Professor Puzzle:

The objective of the Professor puzzle is to choose two colours and to form a loop of each colour at the same time. Each loop must use all tiles with its colour. This puzzle is significantly harder than the 10-tile puzzles of the Super 5 range.

Numbered tiles: 2, 11, 15, 17, 20, 30, 38, 39, 44, 45, 51, 56

Master Puzzle:

Another step up in difficulty and again a 12-tile puzzle. The objective: Choose a colour and form a loop using all tiles with this colour. Only one colour can be solved - but which one?

Numbered tiles: 18, 22, 23, 26, 27, 33, 34, 35, 36, 47, 53, 55

Genius Puzzle:

This is by far the hardest puzzle in the range! It took the inventor 5 years to solve the Genius after designing it. The objective: Choose two colours (but not green) and form two continuous lines simultaneously. Each line must use all the tiles with its colour. There are only two solutions to this puzzle.

Numbered tiles: 1, 4, 6, 7, 9, 10, 13, 16, 28, 37, 48, 49

Most Tantrix puzzles have the objective of making loops, which allows for some mathematical analysis to help solving. The Genius is different and hints gained through loop analysis do not apply.