A player's perspective


By Letícia Lengyel - Hungary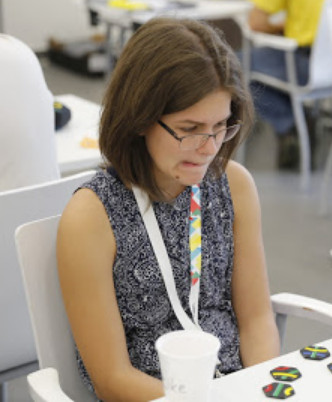 "I had been looking forward to this year's WTO for months. It felt special since it would take place in Debrecen, the city where I started my studies just a few days before the WTO, and where I will be living for the most part of my life in the future. And sure, in addition to this, I couldn't wait because I'd be meeting some players I already knew again and new players who I'd meet for the first time. It is always a great opportunity to have fun with such interesting people. So, let me tell you how I look back to these fantastic 3-4 days spent with you guys here.

Thursday. Some players arrived in Debrecen early, so we had dinner together in a fantastic restaurant. First I didn't remember so I didn't understand why everyone ordered beer to drink, but then I realised: ah, yeah, they believe the luck is in the beer. But I didn't drink any alcohol that night, and I promised that I wouldn't drink any during the Tantrix weekend, but Blick said: "I know you, you will drink sooner or later, probably on Saturday night depending on your results - if you do well that's why, if you loose too many games, that's why. But you will drink…" Well, that night I promised another thing as well, that I would perform some singing during the weekend…

I have singing lesson every Friday morning in my hometown, so I travelled home, took some logical games to make the breaks between the tournament games more colourful, but in my hurry, unfortunately I left some of my favourites at home that I am sure Lennart and some others would have loved. But it wasn't the worst part of that day. As I had been ill for almost 2 weeks, finally the illness attacked my voice, and I couldn't sing. My teacher banned me from singing for a week and ordered to medicate myself. So, should I tell more? I broke my promise one day before Blick's prediction and I drank Jagermeister on Friday night, and every night after that. I wanted to heal my voice as soon as possible because I didn't want to break one more promise I made for the weekend. On Friday afternoon, Blick and Leslie held a demonstration about Tantrix in the Agora (the venue) and by the end of it, most of the players arrived, so we went to have dinner together to a restaurant, where we stayed quite long playing games.

The first big day arrived: Saturday, the tournament started. On the playing tables everyone had some presents: an SAP bag, Medve sunglasses, a bottle of the special beer made for the WTO in 4 different tastes - called Sint, Brid, Chin and Rond - with unique stickers on them. There were extra stickers that we used for showing the colours during the games, because yes, the 4 stickers were in the 4 Tantrix colours. For me the tournament started with a game against Simon. It seemed like a good start as I won it, and after doing quite well in the morning, suddenly I found myself in the top 10. Meanwhile I didn't understand how Blick could fall to the bottom… But there is always something weird happening on the board, it isn't unusual. Unfortunately, in the afternoon as I was loosing my energy, I did worse and worse and my name dropped low on the board. In the evening we went to a restaurant where the promised performance happened. Zsofi played the violin, I sang, and then folk-danced a bit with Mizo. We were live on Facebook for a while to show the world of Tantrix that we were having so much fun. After this we visited the Mist Theather and then went to take some rest before the next big day.

On Sunday, I had to face Zormac first, and my name showed up around the last 5 places. But after this game, I asked the milk - my good old friend - for help and it didn't disappoint, I won the second game. Then I felt the luck was in the amount of milk I drank, so I drank milk during all the games, and yes, I didn't loose, not only the second, but the 3rd, 4th, 5th, 6th and 7th games as well, beating Mizo, Marek, Padam… Some started cheering for me, that was a really great feeling - thank you Nica! So I did't loose anything until the last game arrived, and my worst nightmare came true - I had to play against Niklas. As I wanted Mizo to be the champion, and Niklas was just a bit above him, I felt everything depended on me, especially who the world champion would be. But I knew I had no chance, I was already tired, I lost all my hope, made big mistakes and lost the game as well. So Niklas became the champion.

I felt it was my fault that Mizo missed first place, my tears started to stream immediately. I was staring at the board and crying, when suddenly Simon came next to me with his mobile and said: "Hey, look at what a big ELO you got, and even a norm! Congrats!" I reacted: "What? No, I can't believe it! How on earth? Really? Omg! I have never got any norm, it is unbelievable..." He made me smile and happy, and nobody around us could understand why I am crying and smiling at the same time. Then soon came the prize giving ceremony, where first Blick showed all the prizes the winners can choose from and there was another prize for "someone special", an antique and unique puzzle from 2005's Hungarian Open. Blick read the results starting from the bottom, and before he read mine, he said that the "best female player who will get the puzzle is…". That was the moment I realised that among the women I ended up in first place, because after the last game, behind my tears I couldn't see anything.

After the ceremony, with those who stayed for Sunday night, we went to a restaurant again, ate delicious, played games and talked. Then everyone went back to the hotel, and I joined them because I wanted to play some games with Niklas. I stayed quite late, then I walked back to my dorm to have some sleep and then face a long week at uni starting at 8.00 a.m… Yes, I was on that level of energy that you might guess, but I wouldn't have missed any moment of this nice weekend.

Now, it might seem weird but so cool that weeks and months after the WTO I can still feel the ghost of the WTO around me in my everydays as I am here, walk the same roads, breathe the same air as through those days when all those people were here. Maybe this atmosphere gives me the positive energy to the WTC now… Thanks to all the players who came here to spend a nice weekend filled with Tantrix. I hope all had great fun and after reading this, whoever wasn't here, wish they had been! I really missed some people from the event besides Trouble, but I look forward to seeing those faces on the next WTO."