Good news travels fast


By Eva Radix - Netherlands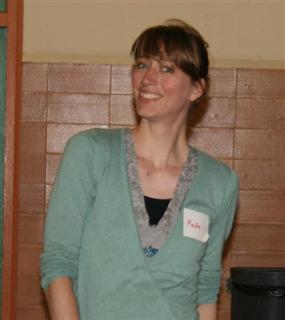 "On Thursday morning Smile and I flew in from Brussels to Barcelona and in the afternoon we visited the Sagrada Familia, the famous cathedral, first designed by Antoni Gaudi. From the outside I wasn't sure what to think of it. Risking saying something blasphemous: it's almost like the Frankenstein monster of architecture. Beautiful, totally weird and ugly at the same time. But the inside was so impressive. Especially the stained glass windows which make you feel like you're standing in the middle of a rainbow.

On Friday we went to parc GŁell and we ended the day with a dip in the sea. Locals must have thought we were crazy; going for a swim when the water was still so cold. But it was as warm as the Dutch North Sea in mid summer, so to me it felt like a nice refreshing dip.

First game on saturday, against Zormac, was the most memorable one: at some point I had two seperate lines. But then they got connected on one side, and then as well (missing only one corner) on the controlled side on the other side of the tantrix, giving me an almost-loop. But with Zormac getting the first free move, I had no hope of closing it. But after a closer look, it turned out he had no way of blocking the connection, nor getting rid of all my corners. Must have been so frustrating (sorry Z!). Endresult: 20-0 TP's.

As a mid-seeded player I'm never sure winning the first game is a good thing in a tournament using a swiss system, as you will have to face "the big boys" after that. So I was a little scared going into my following games, expecting to plummet back down at some point. But to my surprise the next couple of games went pretty well, and I managed to stay in the top 10. At lunch (and what a fantastic lunch it was! Very different from a typical Dutch lunch, which is usually hardly more than a slice of bread with some cheese) Superman and I joked around that we could make a deal: agree on a draw for our game, so we could both take a siŽsta, which would have been a good idea after such a copious meal. We decided to play anyway, but guess what: it turned out to be a draw! Too bad we skipped that SiŽsta on the beach.

The other very memorable game was the one against Benopi. In my 10 years of playing offline tournaments, I think I happened to beat a number of top players - just by sheer luck! - at least once, at some point or another. Blick, Niklas, Marek, Zormac, kameamea, mikem, you name them... But Ben... Never. By now, he's my most feared opponent. And he knows this, and I know he tries to use it against me. ;) But today I finally broke the long row of losses! Even if I had lost every game after that one, this had already made my day. I don't know if it had something to do with the fact I couldn't drink any alcohol (because of the little one in my belly) or maybe it was the absence of my party buddy Joyce, or perhaps simply the fact I'm getting older, but for the first time ever on a Saturday night at a Tantrix tournament I found myself in bed before midnight. Might be interesting to find out what a good night's sleep will do to my performance...

And what a difference it made! Usually after two nights of too much wine and too little sleep (okay, I admit: having fun with friends is higher on my priority list than actually playing Tantrix) I make mistake after mistake on the Sundays. But today I managed to limit them to only a few. Worst one was in the endgame against Wassolls. I tried to block his connection, but ended up giving him a choice between making or breaking his own connection... hmmm, guess what he chose? But other than that, I felt I wasn't playing too badly, and - truth be told - the tiles fell mostly my way. So all through Sunday I was able to stay pretty high up in the ranking. I couldn't believe what was happening.

And that is one of the (many) things I like about Tantrix. In general, higher ranked players perform better than lower ranked players. But there is always the element of luck involved. So every time you go to a tournament, you have this feeling that with a little luck on you side, this might be the time you're going to beat them all. And then it came down to the last round. Lots of players very close to one another in the top 6 or so. But I thought I was too low down for a medal anyway, so I wasn't really keeping track of the results of the other games, and what they meant for my position. I was happy enough with any position in the top 10 really. And then the last result was entered in the computer, and it turned out I ended up in third place! Amazing!

Two girls in the top 3 (like last year's WTO) and two Dutchies. Couldn't have wished for a better top 3. My congratulations to Britta and Ben. After the ceremony I phoned home to proudly tell my family the end result, but the phone was answered by my 5-year old with a "Congratulations mommy!!" Thanks to the internet, good news travels faster then ever. Apparently they had been following the Tantrix website all day: "It was like watching the Eurovision song contest voting: now she is 9th... 7th now... dropped back to 9th... 6th!... 3rd!!"

It was heartwarming to hear that they had been following the tournament results so closely. The weekend was concluded with dinner with those who stayed in Badalona for another night, and some more games in the hotel lobby. All in all I had a lovely weekend at an amazing location, and I'd like to thank the organisers (Edu and Iris) for their hospitality and smooth organisation. Hope to be back again someday to a Spanish Open. Or hopefully welcome you at a Dutch Open some time.

May the force be with you,
Fafa."