The Tiles
Tantrix consists of 56 different tiles, however, ignoring colours there are just four different shapes known as Single Intersection, Bridge, Chinese Character and Roundabout. The abbreviated tile names and their images are:

Four basic shapes




Blocking when no tiles are left



The three restriction rules are lifted once all tiles have been taken from the bag, and it becomes easy to block a player's line. Try to arrive at this stage of the game with both ends of your line unblocked. If your opponent's line has only one free end, you should put all your effort into blocking it.

Try to be the player who will have the first free move once the restriction rules are lifted. The diagram shows how easy it is to block a player's line; by placing the tile as shown, Red's line will now be permanently blocked at B. Once you've successfully blocked your opponent's line, use your last few tiles to extend your own line.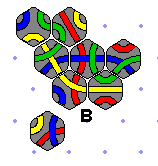 Permanently blocking Red's line


For further reading have a browse through Dave Dyer's Tantrix hints. If you have put together your own thoughts on Tantrix strategy, we would love to hear them!