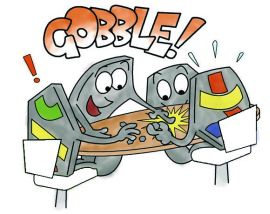 INTRODUCTION



Tantrix Gobble is a family game which is more about speed than strategy. It suits fast, rather than deep thinkers and is a fun introduction for younger players who find the tactics and restrictions of Tantrix Strategy a bit overwhelming. The optimum number of players will depend on how much chaos you can take - more than 4 players, and elbows definitely become a factor!


For 1 to 6 players, 56 tiles, Ages 5+, Average duration: 10 minutes.
Players race against each other to add all their tiles to the Tantrix.
Players may only add tiles which touch at least two tiles already played.
Players are rewarded for filling gobbles! To fill a gobble, add a tile to the Tantrix which touches at least three other tiles.