The Winner
The game ends when all tiles have been played. Each player scores one point per tile in their longest line, or two points per tile in their longest loop, ie loops score double. Only each player's best score counts and the winner is the player whose score is the highest.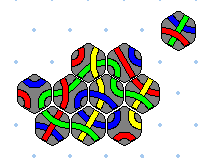 An example: In this game (see diagram), the Green and Blue player are currently tied. Green has a line of eight, while Blue has a loop of four, both players scoring eight points. However, Green is in a much better position to win the game from here, as an unblocked line can be extended, whereas a loop is closed forever. Blue's loop of eight points won't be enough to win the game - the average winning score in a game is around 23. Blue would be well advised to start working on a new line, as well paying attention to the loop threat Green developed. With only one more tile, Green could close a loop of 11 tiles, scoring 22 points - most likely, enough to win this game.
You'll need a combination of careful analysis and devious tactics to win. There is also a bit of luck involved, since everyone draws their tiles at random from the set. This combination of skill and luck makes Tantrix fun for both new and experienced players.
Enjoy playing !