The World Champion: Blick

(click here for the newspaper article in Hungarian)

Kácsor Zsolt - Népszabadság (Budapest, Hungary) - October 2010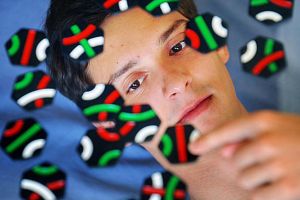 Photo: Reviczky Zsolt

Twenty two year old Mikulán Attila from Debrecen has had unforgettable travels and experiences thanks to a game called Tantrix. The mathematician just arrived home a few weeks ago from New Zealand, where he has spent the last three months. Previously he has been invited to the UK, Netherlands, Czech Republic, Poland, and he even went to Canada, thanks to Tantrix.

So what is Tantrix? It is a strategic-logical game that was invented by Mike McManaway in 1988, who before that worked for IBM. The goal of the game sounds easy: you have to put the 3-colored hexagonal tiles together, and make as long line as you can. The winner is whoever makes the longest line. But in practice it's much more difficult. A good example of this is that the world championships have been held every year since 1997, but for 10 years even the inventor couldn't win. Finally he succeeded in 2007. So it's really special, that the latest world champion is called: Mikulán Attila.

Actually, it's Blick, that's how the players know him from NZ to Canada, which is quickly spreading worldwide and is very popular over the internet. The name 'Blick' has stuck on him from his childhood.

Blick got his Bachelor degree at the Budapest Technical University as an applied mathematician, his thesis was about modelling in pension systems. But that has nothing to do with Tantrix. "You don't have to be a mathematician to be good at Tantrix," he says. "The 3 time world champion Matthew Peek isn't a mathematician, he is IT guy."

The guy has liked puzzles since he is a teenager and is a big fan of Domino Day in the NL. The show is on TV in many countries about this crazy building and toppling dominoes. But he wasn't interested only in building, but what happens after the cameras switch off? He was quite curious about that, and in 2008 he became a builder, and spend couple of months in the NL. Finally he found out. "I should have guessed, the party begins." He says, "after the show we spent 2 hours in the hall partying."

But back to tantrix: he met the game in 2002 at math camp. One day they had to choose and solve a logical game. Blick chose the one in the list, which seemed to be the fastest. That was Tantrix. He didn't think that that's what his life is going to be about for the next several years. "In the first half year I played more than a thousand games" he adds. And why did he like it? He thinks that the excitement of tantrix comes from the luck involved with the game.

"If you play chess, luck doesn't count. We could call it luck, if the opponent makes a big mistake. But in tantrix, you never know what happens after placing the next tile, and this makes every game really tense. It's very important to play this game fully concentrating and relaxed. If you don't focus, you will lose easily."

I learnt from him, that the Hungarians are worldwide known as good players, mainly over the internet. The game is very popular in Australia, NZ, UK and Israel ­ not a surprise, that all of these countries gave a world champion. And we should be proud of Hungary: compared to the population of our country we have a large number in active tantrix players. Actually he was not the first Hungarian world champion: in 2004 Petrecz Péter got the title and the trophy for a year.

Blick says, that it's not only the game he enjoys, but the community as well. "I have met with some very nice people in these years from all over the world," he says. "And besides, I learnt English thanks to them, I also got friends as well. It's a great feeling, when you immediately have something in common with players on the other end of the globe."

In the last few years, he has not only been a player, but an organizer as well. In Budapest, this July, he organized the Tantrix World Table Open. Tantrix is not only an internet game ­ you can also play it on table as a regular table game. Players also like to meet each other in person. Of couse the world champion from Debrecen played as well ­ but he got only 4th place.

"No problem", he laughs. "If Mike McManaway could handle losing as the inventor, why couldn't I?"