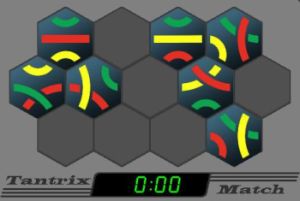 Your first time here?

There is only one rule - all colours must match.

Once Daily Match is launched, enter your name under "Tools". Play by dragging tiles onto the Match board. Colours which do not match will be highlighted in purple, impossible spaces are marked by a circle. You are allowed to ask for one hint per puzzle, but only if you complete all 3 levels without a hint will your name and time be recorded on the "Top Times" list.

Each puzzle has one, and only one solution. A new sequence of three puzzles is posted daily. The difficulty of the puzzles will vary from day to day, so good luck! Click here if you would like a few more hints about how to play.